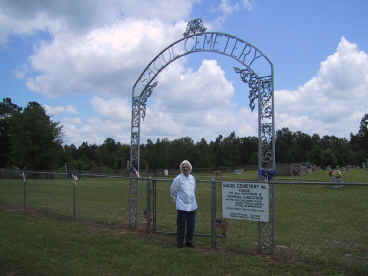 This cemetery was established on March 17, 1849 as the "Hughs, King, Williamson Cemetery." The cemetery is located in Sacul off highway 204.
The cemetery is now Sacul Cemetery, a Perpetual Care Cemetery, Charter No: 340151.
The information in this file was compiled by Helen Treadwell, Cemetery Committee. The information is current through 1997 and will be updated as additional information is made available.
I thank Helen for making this information available to be posted on this site. This could not have happened without her hard work and dedication.

Family name search: Applegate, Applewhite, Bagley, Ball, Ballard, Bartlett, Bass, Bawcom, Belk, Bingham, Blackburn, Blessing, Booker, Bramley, Brooks, Browning, Burgess, Button, Camprell, Carns, Casey, Caver, Champion, Chance, Chandler, Clemons, Cockran, Cofer, Collins, Corley, Cornelius, Cowan, Cox, Cranford, Crews, Dees, Dill, Dodd, Dorman, Duke, Dusley, Faircloth, Fisacherly, Fowler, Franklin, Gault, Gilbert, Greene, Gregory, Gresham, Griffin, Grindle, Hargis, Hearne, Hetty, Higgins, Hobson, Hollingsworth, Hopson, Hughes, Jackson, King, Lancester, Lee, Lloyd, Long, Lucas, Lyles, Marks, Marshall, McKnight, McMillan, Messec, Mills, Mixon, Moore, Mullins, Murchison, Nelson, Nichols, Nickell, Norman, Owens, Ozbolt, Parker, Paxton, Perry, Petty, Pickren, Pitman, Powers, Pye, Reeves, Schroeder, Secrest, Simpson, Sitton, Smith, Spain, Speer, Stubbs, Studdard, Swink, Tate, Thomas, Thompson, Treadaway, Wade, Walker, Wallace, Ward, Weaver, Whitaker, Whitehead, Williamson, Wilson

| | | | | | | |
| --- | --- | --- | --- | --- | --- | --- |
| Last Name | First Name | Middle Name | Birth Date | Death Date | Other Information on Stone | Other Information |
| | Jessie | Lee | 8-26-1902 | 11-11-1963 | | |
| Applegate | Johnnie | Fay | | 11-28-1925 | | Still living |
| Applegate | Michael | Lynn | 1971 | | 1 day | |
| | Ada | C. | 3-7-1879 | 11-11-1912 | Wife of J. O. A. | |
| Applewhite | Annette (Joanna) | Puckett | 3-5-1935 | 12-28-1994 | Dau. | |
| Applewhite | Delia | Josie | 3-8-1889 | 6-29-1974 | Mother | |
| Applewhite | Ernest | H. | 1902 | 5-18-1969 | | |
| Applewhite | Ethel | Mae | 9-19-1906 | 4-18-1982 | Mother | |
| Applewhite | John | Oscar | 11-21-1874 | 3-21-1960 | Daddy | |
| Applewhite | John | Elmer | 3-8-1907 | 10-16-1975 | Daddy | |
| Applewhite | Pearl | E. | 1888 | 3-17-1972 | | |
| Baby Son | | | 1927 | | | |
| | | | 4-25-1911 | | Infant son of L.A & M.F. Bagley | |
| Bagley | Malvina | F. | 11-12-1873 | 2-1-1951 | | |
| Bagley | Minnie | | 12-27-1891 | 1916 | Wife of N.H. Bagley | |
| | S. S. | | | | "M. D." | No dates |
| | Dee | | 4-7-1890 | 4-2-1969 | | Masonic Symbol on Grave stone |
| Ballard | John | Levi | 6-1-1858 | 2-24-1918 | | |
| Ballard | May | Frances | 2-18-1862 | 3-1-1920 | | |
| | | | 1906 | | Inf. Dau. of Will & Ollie | |
| Bartlett | Edna | Leea | 1904 | 1905 | | |
| Bartlett | Louise | F. | 7-16-1917 | | | |
| Bartlett | Ollie | Lee | 1886 | 1962 | Wed; 5-14-02 | |
| Bartlett | Rev. Will | H. Jr. | 12-31-1916 | 9-18-1989 | Wed: 5-15-47 | |
| Bartlett | Samie | Bell | 1903 | 1904 | | |
| Bartlett | Will | H. Sr. | 1877 | 1963 | Wed: 5-14-02 | |
| | Ray | Hughes | 1915 | 1916 | R.H.B. | |
| Bass | William | Edward | 1911 | 1942 | | |
| | Bill | Carlos | 1908 | 1978 | PFC US Army WWI | |
| Bawcom | Gertrude | Gresham | 1-12-1912 | 5-22-1984 | Wed 8-6-1943 | |
| | Verna | Mardelle | Feb | June 1911 | | |
| | R. Y. | | 1824 | 1882 | | |
| | Alta | Joe | 1925-26 | | 10 mo. "Little Sister" | |
| | Dorothy | Jo | 7-12-1928 | 4-3-1984 | | |
| | Jabe | William | 1882 | 1966 | | |
| Booker | Lowell | J. | 5-20-1908 | 12-22-1939 | | |
| Booker | Marianne | | | | | |
| Booker | Mary | Ollie | 1883 | 1970 | | |
| | Loudella | W. | 8-14-1894 | 5-13-1976 | | |
| | Charlie | | 1-5-1897 | 1-16-1969 | Papa | |
| Brooks | Evie | | 3-20-1898 | 5-29-1985 | Mama | Wife of Charlie |
| Brooks | J.W. | | 1926 | 1992 | | |
| Brooks | Jay | Lynn | 2-4-1954 | 1-1-1981 | | |
| | John | H. | 10-5-1869 | 2-9-1929 | JHB | |
| Browning | Joshiephine | | 3-17-1887 | 9-1-1947 | JB | |
| Browning | Roy | | 1907 | 1987 | SGT US Army WWII | |
| | Mrs. C. A. | | 11-4-1871 | 8-24-1952 | | |
| | Annie | May | 1896 | 1917 | | |
| Button | C. L. | | 2-5-1866 | 6-25-1935 | CLB | |
| Button | Clement | B. | 1910 | 1916 | | |
| Button | Genevieve | | 1899 | 6-30-1990 | | |
| Button | Joseph | B. | 1898 | 1966 | | |
| Button | Mary | M. | 1-16-1901 | 7-5-1984 | MMB | |
| Button | Nancy | Leola | 1875 | 1928 | Wife of C. L. B. | |
| Button | W. H. | | 4-17-1860 | 6-6-1929 | | |
| Button | Willie | F. | 7-18-1908 | 9-4-1951 | | |
| | Inez | Booker | 10-26-1904 | 5-4-1991 | | |
| Camprell | Millard | Booker | 2-4-1902 | 3-29-1962 | | |
| | Florence | Murchison | 1-9-1879 | 2-26-1987 | | |
| | Roberta | | 7-4-1909 | 8-25-1978 | Mother | |
| Casey | Simon | R. | 6-17-1902 | 3-6-1984 | Daddy | |
| | Susie | Marlessie | 1914 | 1915 | | |
| | J. L. | | 1880 | 1924 | | |
| Caver | M. A. | | 1836 | 1909 | Wed. 6-7-1854 Wife of John Sorrell | |
| Caver | Ollie | | 1849 | 1930 | Wife of S. T. | |
| Caver | S. T. | | 1844 | 1922 | | |
| | "Toby" O.A. | | 1897 | 1979 | OAC SC3 US Navy | |
| Champion | Grace | | 12-6-1901 | 9-29-1981 | | |
| Champion | Lester | | 11-27-1905 | 3-6-1969 | Wed: 1-9-31 Daddy | |
| Champion | Mitchell | | 10-27-1870 | 8-7-1954 | Father | |
| Champion | R. M. | | 1858 | 1906 | | |
| Champion | Ray | | 8-7-1900 | 8-17-1971 | C.N.C | |
| Champion | Serena | A. | 1866 | 1913 | Mother of Bessie C. | |
| Champion | Zula | Speer | 4-26-1902 | 4-6-1983 | Z. S. C. | |
| | Eli | | 1892 | 1930 | | |
| Chance | James | L. | 1884 | 1929 | Wed: 11-5-1905 Papa | |
| Chance | John | P. | 1857 | 1923 | | |
| Chance | Maggie | Mae | 1889 | 1971 | Wed: 11-5-1905 Mama | |
| Chance | Margaret | | 1859 | 1921 | | |
| Chance | R. C. | | 1914 | 1915 | | |
| Chance | W. R. | | 1874 | 1944 | | |
| | R. A. | "Uncle Babe" | 9-12-1889 | 4-8-1938 | | |
| Champion | Etha | Belk | 9-7-1915 | | Wed: 1-9-31 Mother | |
| | Robert | Asbury | 1924 | | 455 seconds | |
| | Carl | F. | 1903 | 1982 | | |
| | Roscoe | W. | 1925 | 1983 | | |
| | Amanda | C. | 12-23-1872 | 1-26-1943 | | |
| | | | 1929 | | Infant son of Alvin and Evie | |
| Corley | Alvin | R. | 1893 | 1981 | PAPA | |
| Corley | Audrey | Fay | 1922 | 1993 | | |
| Corley | Betty | Jewel | 1926 | | | Wife of Eugene V. Debs |
| Corley | Burleson | | 1921 | 1945 | SGT I CAV WWII | Killed in action June 2, 1945 Philippines Brother to Ralph B |
| Corley | Calvin | Berry | 1898 | 1974 | Wed: 5-11-1920 | Father to Ralph B., Burleson, Audrey Fay |
| Corley | Claude | Tracy | 4-23-1927 | | | |
| Corley | Danny | Ray | 8-1-1972 | 8-5-1985 | Son of John & Emily | |
| Corley | Effie | Annie | 9-4-1915 | 11-16-1990 | Wed: 12-26-32 | |
| Corley | Eugene | V. Debs | 1911 | 1987 | | |
| Corley | Evie | Gresham | 1896 | 1984 | MAMA | |
| Corley | Frank | P. | 1-4-1903 | 10-10-1985 | "Daddy" | |
| Corley | Herbert | | 4-21-1930 | 11-30-1954 | | |
| Corley | Joe | L. | 11-6-1854 | 6-23-1934 | | |
| Corley | Lula | Mae | 11-1920 | 1994 | Wed: 5-11-1920 | Mother to Ralph B., Burleson, Audrey Fay |
| Corley | Martin | B | 1868 | 1916 | | |
| Corley | Martin | Roger | 1935 | 1941 | | |
| Corley | Mrs. S. E | | 1871 | 6-18-1952 | | Susan Ellen Wife of Martin B |
| Corley | Osie | | 4-29-1909 | 9-8-1920 | | |
| Corley | Ralph | B. | 1928 | 1952 | Pvt. Co H14 Inf. 25th Div. WWII Korea | Killed in Korea October 18, 1952 Brother to Burleson |
| Corley | Robin | | 1959 | | 5 days | |
| Corley | Sarah | E. | 5-25-1871 | 9-30-1943 | | |
| Corley | Shannon | D | 1968 | 1980 | | |
| Corley | Willie | Everett | 2-18-1906 | 6-15-1985 | Wed: 12-26-32 | |
| Corley | Winnie | B. | 12-8-1902 | 1-22-1989 | | Wife of Frank |
| | Mrs. Ella | M. | 1892 | 1910 | | |
| | Sarah | Jane | 1848 | 1921 | Selma, Ala. | |
| Cowan | Soloman | Moon | 3-1-1886 | 3-11-1937 | | |
| | Nancie | J. | 11-8-1855 | 12-30-1949 | | |
| | Arkon | | 9-25-1890 | 10-11-1961 | Erett | |
| Cranford | Bonnie | | 4-12-1895 | 3-8-1984 | | |
| Cranford | Marilyn | | 5-25-1922 | | | |
| Cranford | Melba | | 3-29-1914 | 8-20-1978 | | |
| | Hiram | Simon | | | Jan-May 1910 | |
| | Ethel | | 1904 | 1938 | Dau. of J. T. - J. R. | |
| | Edna | Sides | 1900 | | | |
| Dill | George | F. | 1895 | 1967 | | |
| Dill | Johnnie | P. | 1909 | 1950 | Pvt. Chemical Maintenance Co. WWII | |
| Dill | Robert | Neil | 1928 | 1993 | "Bobby" | |
| | Alvin | E. | 1921 | 1960 | Son | |
| Dodd | Frank | Patman | 1892 | 1980 | Pvt. US Army WWI | |
| Dodd | Lillan | | 1897 | 1966 | | |
| Dodd | Marion | Z. Hudgins | 1862 | 1947 | Father | |
| | John | | | | | No on knows his name. This man was found dead in the River Bottom. |
| | Dr. Herschel | D. | 2-18-1916 | 2-15-1975 | | |
| | A.W. | | 6-15-1848 | 12-2-1925 | | |
| Duke | Benjamin | F. | 12-25-1884 | 4-8-1949 | | |
| Duke | Johnnie | M. | 1-20-1888 | 1971 | Mother | |
| Duke | Nannie | | 10-2-1855 | 3-6-1936 | | |
| | Sallie | | 8-5-1868 | 3-2-1953 | | |
| | Lil | May | 1910 | 1911 | Dau. of I. D. & Dellam | |
| | Joe | S. | 7-29-1893 | 3-7-1965 | Wed: 9-18-34 | |
| Fisacherly | Velma | McKnight | 12-19-1908 | 6-23-1987 | Wed: 9-18-34 | |
| | Ramon | Mattie | 4-19-1931 | 11-5-1978 | | |
| | Leona | | 1888 | 1889 | Dau. of J. R. & L. E. | |
| | Nancy | Otto | 5-8-1904 | 10-8-1977 | | |
| Gault | Willy | Mabry | 8-24-1919 | | | |
| | James | H. | 8-10-1912 | 12-13-1965 | | |
| Gilbert | Jamie | Sue | 9-16-1943 | | "Our Baby" | |
| | Elizabeth | | 1819 | 1903 | Wife of William | |
| | Arilla | | 11-26-1867 | | Mother | |
| Gregory | Charlotte | | 12-29-1838 | 6-9-1911 | | Eastern Star symbol on stone |
| Gregory | James | P. | 1834 | 1912 | | Mason symbol on stone |
| Gregory | James | T. | 1864 | 1937 | Father | |
| Gregory | Mattie | H. | 1-10-1882 | 1955 | | |
| Gregory | William | M. | 7-10-1886 | 9-29-1973 | | |
| | Billy | Lewis | 8-6-1927 | 10-11-1986 | CPL US Army WWII | |
| Gresham | Charles | Ray | 1-1-1937 | 9-23-1974 | | Son of Elmer |
| Gresham | Elmer (Sam) | Lee | 1-8-1907 | 1-12-1983 | | Husband to Fay |
| Gresham | John | Henry | 2-151916 | 1-15-1982 | MSGT US Army WWII | |
| Gresham | Lewis | E. | 1884 | 1966 | Papa Married 12-28-1911 | |
| Gresham | Mattie | M. | 1894 | 1973 | Mama Married 12-28-1911 | |
| Gresham | Velma | Fay | 1914 | | | Wife of Elmer Still living Maiden name Corley |
| | Ben | H. | 12-22-1876 | 3-13-1969 | | |
| Griffin | Betty | Lee | 1-27-1931 | | Wed 1-14-50 | |
| Griffin | John | | 12-11-1916 | 4-30-1990 | Wed 1-14-50 | |
| Griffin | Mara | Ella | 2-22-1884 | 9-25-1925 | | |
| Griffin | Pauline | McKnight | 1904 | 1992 | | |
| | Homer | George | 1922 | 1982 | PFC US Army | |
| | Henry | | 6-3-1875 | 7-19-1933 | Father | |
| Hargis | Hollis | | 7-19-1900 | 7-19-1916 | | |
| | Benny | David | 8-2-1937 | 12-17-1961 | Wed 1-21-1957 B.D.H. | |
| Hearne | C. J. (Jack) | | 1-23-1911 | 2-9-1973 | Wed 9-17-1932 | |
| Hearne | Carolyn | Lyvonne | 4-18-1932 | | Wed 1-21-!957 | |
| Hearne | Opal | Mildred | 11-14-1911 | 6-28-1988 | Wed 9-17-1932 | |
| | S. | | 1830 | 1883 | | |
| | Elmer | Ray | 9-17-1904 | 3-19-1938 | | |
| Higgins | Grady | L. | 1901 | 9-10-1971 | | |
| Higgins | Jewel | | 2-18-1898 | | | |
| | Charley | | | | | No dates |
| | Juanita | Button | 5-8-1919 | 11-3-1990 | | |
| Hollingsworth | Warren | Brower | 1893 | 1969 | Pvt. Co. A | |
| | David | | | | | |
| Hopson | Flora | | | | | |
| | | | 3-12-1849 | 3-17-1849 | Dau. of N. S. & D. H. | This is thought to be the first grave in the cemetery |
| Hughes | Bill | J. | 9-20-1929 | 1-4-1998 | | |
| Hughes | Daniel | H. | 1818 | 1874 | Logan Co. KY | Mason symbol on stone |
| Hughes | Flossie | | 1888 | 1890 | | |
| Hughes | John | D. | 1895 | 1898 | | |
| Hughes | Nancy | S. | 1818 | 1879 | Bedform Co. Tenn | |
| | Robert | Simie | 1-15-1910 | 9-3-1917 | | |
| | | K. | 1799 | | | |
| King | B. F. | | 1844 | 1930 | | |
| King | J. E. (Dick) | | 1896 | 1970 | | |
| King | John | P | 1793 | | | |
| King | Juel | A. | 1883 | 1903 | | |
| King | Lela | V. | 1875 | 1898 | | |
| King | Martha | E. | 1847 | 1891 | | |
| King | Mary | Ann | 6-28-1931 | | | |
| King | Mattie | Murchison | 9-10-1902 | 7-1986 | | |
| King | Nancy | S. | 1841 | 1919 | Wife of John T. | |
| King | Tom | Jack | 12-10-1925 | 12-16-1991 | | |
| | Lou | T. Buford Rucker | 1-6-1861 | 5-22-1936 | | |
| Lancester | Rev. Silas | | | | D. O. D. 1-24-1926 | |
| | Lorena | Pearl | 1910 | | Dau. Of J. A. & D. A. Lee | |
| | Annie | Fay | 9-19-1919 | 2-17-1956 | A. F. L. | |
| Lloyd | Carroll | G. | 4-6-1926 | 11-12-1994 | WWII | |
| Lloyd | Dewey | | 8-7-1900 | 8-23-1945 | | |
| Lloyd | Fred | Fluxer | 4-7-1923 | 5-22-1987 | Decorated Airman & POW WWII | |
| Lloyd | Graydon | F. | 7-17-1891 | 12-22-1991 | | |
| Lloyd | John "Jiggs" | Douglas | | 1-28-1998 | | |
| Lloyd | Verna | E. | 10-19-1904 | 2-17-1987 | Mother | |
| Lloyd | William | T. | 9-9-80 | 4-20-1963 | | |
| | Bertha | A. | 5-30-1902 | 3-22-1998 | | |
| Long | C. | Aubrey | 9-27-1901 | 1-19-1965 | | |
| | | | 1914 | | Inf. Son of John T. & Lelia | |
| Lucas | Arthur | J. | 11-11-1896 | 6-14-1976 | | |
| Lucas | Billy | | 1920 | 1983 | BILLY | |
| Lucas | Blanche | Cravey | 6-21-1895 | 6-11-1990 | | |
| Lucas | Gabe | E. | 12-18-1890 | 12-6-1932 | GABE | |
| Lucas | Harold | Coke | 12-22-1897 | 7-1-1916 | HCL Son of John T. & Lelia | |
| Lucas | Ida | E. | 1859 | 1942 | | |
| Lucas | J. C. | | 10-15-1837 | | Born in Ireland | |
| Lucas | James | W. | 6-24-1893 | 5-14-1947 | "Mr. Jim" | |
| Lucas | James | Hugh | 9-3-1925 | 9-27-1994 | | |
| Lucas | James | N. | 1857 | 1919 | | |
| Lucas | Jennie | | 1881 | 1910 | Dau. of J. N. & Ida | |
| Lucas | Jessie | L. | 1877 | 1879 | Son of J. H. & M.E. | |
| Lucas | John | H. | 1824 | 1888 | Born in Franklin Co. Tenn. | Mason symbol on stone |
| Lucas | John | T. | 7-20-1861 | 5-11-1930 | | |
| Lucas | Lelia | W. | 4-22-1871 | 8-3-1958 | LWL | |
| Lucas | Lucy | | 8-7-1885 | 5-14-1947 | | |
| Lucas | Luke | L. | 3-2-1891 | 2-5-1931 | LUKE | |
| Lucas | Mabel | Daniel | 1893 | 1984 | MABEL | |
| Lucas | Mary | E. | 1837 | 1926 | | |
| Lucas | Mary | E. | 1892 | 1989 | | |
| Lucas | Mattie | Louise | 5-22-1907 | 10-7--1919 | Dau. of J. T. & L. W. | |
| Lucas | Oma | Wade | 10-25-1901 | 11-29-1962 | | |
| Lucas | Ray | Burke | 1919 | 1974 | CSP US Navy WWII | |
| | Jean | Williamson | 1918 | | | |
| Lyles | Joan | Carolyn | 1943 | | 2 days | |
| Lyles | U. D. | | 1918 | | | |
| | Velma | Treadaway | 8-2-1908 | 4-13-1990 | | |
| | J. C. | | 10-12-1877 | 4-29-1914 | | |
| | A. R. | 5-22-1879 | 5-12-1923 | | | |
| McKnight | Aaron | A. | 1858 | 1950 | | |
| McKnight | Aaron | O. | 1906 | 1977 | Wed: 10-12-1949 | |
| McKnight | Amanda | E. | 1905 | 1910 | Dau. of A.R. & M. | |
| McKnight | Beatrice | L. | 1919 | | | |
| McKnight | Cora | Ellen | 1870 | 1943 | | |
| McKnight | Elizabeth | | 11-19-1958 | 1-19-1929 | | |
| McKnight | Glayds | | 1907 | | Wed: 10-12-1949 | |
| McKnight | Guinn | | | | Infant son of L.D. & J.A. Jan-May 1916 | |
| McKnight | Hiram | | 11-6-1853 | 7-5-1941 | | |
| McKnight | James | Clifford | 10-18-1915 | 12-26-1981 | | |
| McKnight | Janie | Edward | 11-19-1979 | 5-6-1993 | | |
| McKnight | John | Allen | 2-14-1887 | 1966 | | |
| McKnight | Julian | T. | 1893 | 1955 | | |
| McKnight | Katie | L. | 1890 | 1980 | | |
| McKnight | Leon | "Sonny" | 1902 | 1973 | | |
| McKnight | Lonnie | D. Powers | 1893 | 1972 | | |
| McKnight | Lula | Bagley | 4-22-1912 | 7-20-1939 | | |
| McKnight | Maggie | 10-31-1883 | 12-22-1968 | | | |
| McKnight | Thomas | Earl | 1918 | 1987 | Pvt. US Army WWII | |
| | Douglas | N. | 10-30-1897 | 9-29-1955 | | |
| McMillan | Lela | G. | 1-3-1898 | 8-13-1986 | | |
| | Georgia | L. | 1892 | 1972 | | |
| Messec | Laurel | H. | 1885 | 1960 | | |
| Messec | Luby | H. | 11-14-1911 | | | |
| Messec | Mary | L. | 10-14-1920 | | | |
| Messec | Ornie | Cornelia | 1889 | 1894 | | |
| Messec | Susanna | | 1857 | 1911 | | |
| | Mary | Aline | 9-5-1979 | 9-6-1979 | | |
| | M.A. "Ida" | | 1830 | 1916 | Mother of Ida Chance | |
| | Billie | Crawford | 1-1-1909 | 5-1-1979 | Wed 4-19-27 | |
| Moore | Lunie | B | 1975 | 1911 | Wife of B.F.M. | |
| Moore | Ralph | E., Sr. | 1904 | 4-19-79 | Wed 4-19-27 | |
| Moore | Ralph | Emerson, Jr. | 1930 | 5-22-1981 | | |
| Moore | William | Henry | 1864 | 1931 | | Rock at foot of grave |
| | Carl (Copy) | E. | 5-6-1917 | 10-13-1985 | | |
| Mullins | Fairy | Lee Williamson | 6-29-1917 | | | Dau. of Viola & Horace Williamson |
| | Dorothy | Lorine | 3-25-1921 | 4-30-1921 | 1 mo. | |
| | James | Merle | 12-22-1921 | 7-12-1996 | MMS USN | |
| Nelson | Thersa | Corley | 3-27-1925 | 1-4-1992 | | |
| | Clinton | Leon | 1902 | 1903 | Son of W. T. - Julie | |
| Nichols | Lomy | Gertrude | 1901 | 1903 | Dau. of W. T. - Julie | |
| Nichols | Lorene | May | 1904 | 1905 | Dau. of W. T. - Julie | |
| | "Glen" Charlie | G. | 2-1-1897 | 8-13-1978 | Pvt. US Army WWI | |
| Nickell | Ella | Collins | 3-4-1895 | 5-12-1980 | | |
| | Johnny | Lee | 5-20-1983 | | Son of Bubba Jr. and Penny | |
| | Franklin | R. | | 6-28-1954 | | |
| Owens | Martha | | 10-22-1947 | 12-6-1947 | | |
| | Petar | | 1895 | 1915 | Born in Bexgovica County of Ossivin K-Rain, Austria | |
| | J. B. | | 10-12-1922 | 10-12-1988 | PFC US Army WWII | |
| | | | | | Infant son W.D. Paxtons | |
| | | | 1918 3 mo. | | Infant Son of Mr. And Mrs. Zeaf Perry | |
| | Charles | | | | | |
| Petty | Margaret | | 6-30-1837 | 11-12-1914 | | |
| Petty | Will | | | | | |
| | Joseph | M. | 1871 | 4-25-1941 | | |
| Pickren | Minnie | P. | 1881 | 12-7-1971 | | |
| | Alden | D. | 3-1-1918 | 4-9-1963 | | |
| | Lonnie | D. | 1893 | 1972 | | |
| | | | | 1918 | Infant son of Carl & Artie | |
| Pye | Artie | | 1897 | 7-20-1967 | | |
| Pye | Carl | M. | 9-22-1895 | 4-15-1970 | | |
| Pye | James | A. | 1852 | 1924 | | |
| Pye | Loretta | | 1893 | 1907 | Dau. of J. A. + M. A. | |
| | Bryant | | 8-5-1901 | 2-17-1959 | Dad | |
| Reeves | Jamie | | 9-27-1902 | 2-10-1981 | Mom | Maiden name Gresham |
| Reeves | Mary | | 1884 | 1935 | M.R. Mother | |
| Reeves | Olene | | 1922 | 1926 | | |
| Reeves | W. Frank | | 1974 | 1937 | F.R Father | |
| | Celia | McKnight | 1910 | 1928 | | |
| Rogers | Gordon | Wayne | 1928 | | 1 day | |
| | Anthony | A. | 2-21-1914 | 3-5-1985 | Wed 5-6-1940 US Army WWII | |
| Schroeder | Beatrice | B | 1-5-1922 | | | Wife of Anthony B. |
| Schroeder | Rex Anthony | 12-14-1954 | | | | Still Living |
| Schroeder | Sheron | Gresham | 11-19-1946 | | | Still Living |
| | Berline | Lloyd | 617-1910 | 1-2-1993 | | |
| Secrest | Harold | | 1914 | 1923 | | |
| Secrest | James | | 1916 | 1921 | | |
| Secrest | Raymond | Glenn | 6-27-1900 | 8-19-1982 | | Mason symbol on stone |
| | Billy | Dale | 1964 | 1990 | | |
| | David | F. | 1896 | 1969 | | |
| Sitton | Martha | Ann | | 10-26-1936 | | |
| Sitton | Texana | W. | 1904 | 1991 | | |
| | Janet | Kay Casey | 8-3-1956 | 2-18-1987 | Ryan's Mommy | |
| Smith | Letcher | Weldon | 1908 | 1910 | | |
| | Chester | Lawrence | 1916 | 1917 | Son of D.W. | |
| Spain | D.W. | | 1886 | 1924 | | |
| Spain | H.H. | | 1862 | 1916 | | |
| | M.A. | | 1-28-1849 | 8-14-1913 | Mr. | |
| Speer | M.E. | | 8-7-1851 | 11-6-1942 | Mrs. | |
| Speer | Robert | S. | 10-1-1880 | 9-27-1972 | | |
| | Maurine | Lucas Duke | 1-11-1912 | 2- - 1998 | Mother of Margaret, , Kent Chaddick | |
| | | | | | Infant Dau. of S. H. (Hob) Studdards | No dates |
| Studdard | Tommie | Lee | 1900 | 1921 | | |
| | | | 3-14-1912 | | Dau. of Forest & Ollie | |
| | Freddi | Karroll | 1941 | 1969 | Father | |
| Tate | Lela | Doris | 1921 | 1972 | | |
| | | | 9-2-1962 | 6-6-1985 | Tammy dau. Stoney & Mary | |
| | Irene | W. | 1-19-1910 | 5-12-1984 | | |
| Thompson | J. | Howard | 7-1-1904 | 1-10-1981 | | |
| | Dr. Bertha | Mae | 9-16-1905 | 12-17-1983 | | |
| Treadaway | Elmer | T. | 8-29-1908 | 12-1-1993 | G | Mason symbol on the stone |
| Treadaway | Euretha | A. Perry | 4-30-1915 | | | |
| Treadaway | Janell | Penny | 11-1-1938 | | | Still living |
| Treadaway | Jesse | Ray | 3-6-1926 | 8-17-1990 | | |
| Treadaway | Jessie | Dinkins | 8-15-1919 | 5-2-1991 | | |
| Treadaway | Louise | Barnes | 4-23-1906 | 12-14-1979 | | |
| Treadaway | Mrs. R.O. Maud | | 11-17-1884 | 7-18-1957 | Maud | |
| Treadaway | R. O. | | 9-13-1882 | 5-2-1948 | | |
| Treadaway | Sam | | 10-12-1916 | 4-10-1990 | | |
| | Clarence | | 1896 | 1910 | | |
| Wade | Himes | A. | 1-10-1851 | 8-28-1915 | Father | |
| Wade | Monroe | | 6-18-1903 | | | |
| Wade | Monroe | | 1903 | 1906 | | |
| | Mrs. M.J. | | 8-26-1832 | 9-22-1928 | | |
| Walker | W. H. | | 1-23-1853 | 10-13-1945 | | |
| | Susannah | H. | 12-27-1818 | 7-19-1881 | Wife of James E. | |
| | Georgia | Ann | 1852 | 1911 | | |
| Ward | John | R. | 1954 | 1997 | | |
| Ward | Wesley | DeWayne | 1912 | 1913 | | |
| | George | L. | 1-28-1911 | | Wed: | Still living |
| Weaver | Gertrude | | 12-9-1914 | | Wed: | |
| Weaver | Iduma | | 2-10-1980 | 6-24-1965 | | |
| Weaver | James | Price | 8-23-1908 | | | |
| Weaver | John | D. | 5-29-1877 | 2-7-1961 | | |
| Weaver | Pearl | | 8-3-1912 | 3-12-1989 | | Wife of Price Maiden name Gresham |
| | Chester | Ray | 12-5-1915 | 8-4-1988 | Daddy | |
| Whitaker | Tasha | N. | 2-14-1974 | 2-26-1974 | | |
| Whitaker | Thelma | Lee | 2-12-1919 | 3-30-1991 | Mother | |
| | Bessie | E. | 1907 | | | Wife of Luther |
| Whitehead | Billy | Joe | 1938 | | (B&D) B.J. | |
| Whitehead | Charles | Wayne | 1942 | | Son of Bessie and Luther 6 mo. C.W. | |
| Whitehead | Claude | | 8-1-1890 | 6-12-1966 | | |
| Whitehead | Dumpie | | 12-8-1863 | 6-20-1946 | Mother | |
| Whitehead | Ethel | | 5-22-1897 | 2-20-1992 | | |
| Whitehead | Flora | | 2-22-1900 | 6-26-1981 | | |
| Whitehead | Henry | | 10-22-1887 | 4-6-1966 | | |
| Whitehead | Horace | | 8-23-1905 | 6-7-1957 | | |
| Whitehead | Jim | | 5-25-1858 | 1-31-1921 | Dad | |
| Whitehead | Lester | | 7-21-1919 | 2-8-1985 | PFC US Army WWII Wed 2-16-1946 | |
| Whitehead | Luther | J. | 1894 | 1984 | PVT US Army WWI J.L.W. Wed 1-16-1926 | |
| Whitehead | Marvin | Leon | 1942 | | M.L. | |
| Whitehead | Thelma | | 8-24-1925 | | | Wife of Lester |
| | | | | | | All information gone |
| Williamson | A. E. | | 1860 | 1904 | AEW | |
| Williamson | Amanda | V. | 5-5-4-1851 | 2-23-1931 | A. V. W. | |
| Williamson | Aner | King | 5-15-1861 | 10-20-1888 | Wed: 3-5-1885 | |
| Williamson | Belle | | 2-21-1876 | 12-3-1949 | | |
| Williamson | Carrol | | 1912 | 1919 | | |
| Williamson | Cleorah | | 1871 | 1964 | CW | |
| Williamson | Dewey | B. | 1897 | 19 | DW | |
| Williamson | Dovie | C. | 1899 | 1947 | Mother | |
| Williamson | Edgar | G. | 1876 | 1937 | | |
| Williamson | Elias | | 2-4-1881 | 2-9-1955 | | |
| Williamson | Elizabeth | K. | 1876 | 1904 | Mother | |
| Williamson | Ella | X. | 1895 | 1943 | | |
| Williamson | Ennis | G. | 1906 | 1910 | Son of E. G. & Ella | |
| Williamson | Eugene | A | 1860 | 1904 | | A poem and picture are on the stone. |
| Williamson | Eula | Viola | 12-14-1894 | 6-25-1975 | | Maiden name Corley |
| Williamson | Fannie | Eubanks | 1836 | 1881 | Miss. | This apparently is a monument |
| Williamson | Fannie | | 8-25-1836 | 7-26-1881 | Born in Watervalley, Miss. | |
| Williamson | Felix | H. | 1894 | 1973 | Daddy | |
| Williamson | G. M. | | 3-16-19-832 | 12-1-1885 | Born in Logan Co. Ky Co. C 1 Miss. Cav. C. S. A. 2nd Lt. | |
| Williamson | George | W. | 4-10-1859 | 1-8-1890 | Wed: 3-5-1885 | |
| Williamson | George | | 1832 | 1885 | Ky. | This apparently is a monument |
| Williamson | Horace | | 2-13-1889 | 3-19-1960 | | |
| Williamson | J. M. | | 1858 | 1926 | JMW | |
| Williamson | Julian | C. | 8-27-1876 | 3-8-1963 | | |
| Williamson | Laura | M. | 1887 | | 1 mo. | |
| Williamson | Lynda | Jo | 8-31-1947 | 4-16-1994 | | |
| Williamson | M. A. | | 1863 | 1924 | MAW | |
| Williamson | Marcus | Burse | 1919 | 1920 | 20 mo. | Son of Horace & Viola |
| Williamson | Minnie | Wall | 1897 | 1918 | | |
| Williamson | Myrta | | 10-16-1882 | 2-26-1948 | | |
| Williamson | Novel | G. | 1895 | 1944 | CPL 330 Field RMT Ga WWI | |
| Williamson | Oscar | | 1873 | 1878 | | |
| Williamson | W.T. | | 3-20-1853 | 12-10-1937 | W. T. W. | |
| Williamson | William | A. | 12-31-1930 | 11-23-1989 | | |
| Williamson | William | Mack | 5-28-1889 | 8-25-1940 | | |
| Williamson | William | T. | 1875 | 1892 | Red Oak School | |
| Williamson | Willie | E. | 1898 | 1974 | WEW | |
| | Bertha | | 1905 | | 1 mo. Dau. of A. D. & Bertha | |
| Wilson | C. E. | | 1883 | 1953 | | |
| Wilson | Clyde | T. | 3-12-1923 | | Wed: 6-18-1948 | |
| Wilson | Della | | 1876 | 1906 | Wife of A. D. W. | |
| Wilson | Florence | N. | 2-3-1925 | 8-19-1992 | Wed: 6-18-1948 | |
| Wilson | Jimmie | M. | 4-4-1945 | 10-17-1964 | | |
| Wilson | Weldon | Clyde | 12-3-1952 | 1-10-1990 | | |